The Tlacuache That Stole From Demons
Cuentacuentos is not a brand I can find here on the east coast. I've been fortunate enough to receive samples from friends but I have never purchased a bottle. I blind reviewed a sample of Seemanniana that I really enjoyed a few months ago so I'm excited. Here I am, back again to blind review 5 different expressions this time, from 3 different producers under the Cuentacuentos label.
What you see in the photo is all the info I had. I had no indication of brand or agave species. I had a producer name, most of the time, the bottling proof, and a batch number. Not much to go on and I kept the reviews blind all the way to the end, revealing that all of the samples were from the same label.
I started writing down my reviews mostly because I would forget which mezcaleros I enjoyed or if something was clay or copper distilled. This website was to remind myself, as more of an archive, to go back and find those commonalities with agave species, still types, and producers. I've slowly been able to recognize similar qualities with clay distilled mezcal, but these blinds were far more interesting than I expected.
The samples were provided by Mezcal Reviews and Cuentacuentos for reviewing purposes. Big thanks to both. I had a ton of fun learning more about the brand and experiencing their mezcal.
---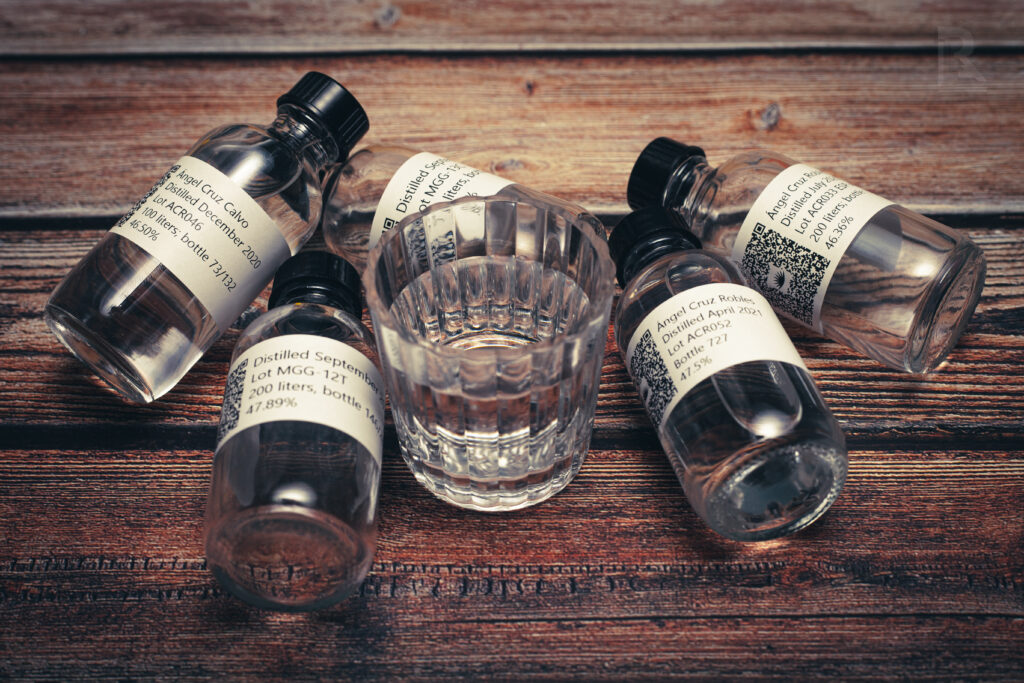 ---
Espadin Ancestral 46.36% – Ángel Cruz Robles
Lot: ACR033 ESP-A July 2020
Big tropical bubble gum nose. Mellows out fairly quickly with a more vegetal, green aroma. Lumber yard and a unique spice. Plum, raspberry, mango, kiwi. Bubble gum spices and herbs – ginger, cardamom, cotton candy artificial "Blue Raspberry". It's rather sweet smelling. Lemon verbena, stevia. Clover and violets.
The fruity and sweet nose is not present at all on the palate. Bitter, sour cherries. Tart. Cigar ash, tobacco leaves. The floral notes bring a dried tea flavor. Leaves, kindling, a touch of hay. Definitely changes to a more bitter profile with hints of those tropical flavors catching the sides of your tongue. Flavored tobacco. Maple, cherry wood. Hazelnuts. Faint orange blossom water.
A lingering murmur of smoke on the finish. Earth, gravel. Toasted spices – Nutmeg, pink peppercorn, dried ginger. Again, just wisps of fruit when you exhale after a sip. Unripe strawberry. Cinnamon, coriander, nutmeg. Lime and diet RC-Cola.
This honestly is a great mix of flavors except for this back and forth sweet to bitterness that I experienced. I assume this is an Espadin just given the hint in the lot number, and if I compare it to others, this is outstanding. On it's own, it's just not that strong of an expression to me. Will have to revisit this one and perhaps try more from this producer.
6/10
---
Seemanniana 47.5% – Ángel Cruz Robles
Lot: ACR052 April 2021
Initially it was a very chemical grassy nose. I let it sit and that chemical note faded a bit into the background. Earthy aromas – potatoes, carrots, fennel and green onions. Mild rice wine vinegar note. Medicinal, artificial cherry cough syrup. Heavy mineral and metallic. Aluminum. Canned Orange Juice. A slight hint of mint and a light fruity note.
Lots of punchy capsaicin heat on the palate. Black tea, touch of lemon and some cinnamon. Basically describing a hot toddy. Fruit extract, agave nectar sweetness. Very enjoyable but not really something that challenges you. Very straight forward roasted agave flavors.
The finish reminds me of a dry riesling. Tropical fruit and herbaceous. Mint, lime, citrus oil, roasted agave. The grassy flavors bring the dried tea and tobacco notes. Sweet agave nectar and grape or raisin fruity flavors. Finish is a bit on the short side but very good.
I really do enjoy this one but it's not something that you have to inspect much. You can just sit back and enjoy without much thought. It's a well made spirit without many negative qualities. Upon reveal, I should note my previous review of this expression was distilled by his grandfather, Ángel Cruz Calvo. Still some similarities between my notes especially the wine flavors.
7/10
---
Coyote Ancestral 46.5% – Ángel Cruz Calvo
Lot: ACR046 Dec 2020
It's a whole orchard in a glass. Apples, honey, wood bark. With time, that sweetness predictably fades for more spiced, herbal, vegetables notes. Cilantro, coriander. Earthy walnuts. Lime leaf, grapefruit peel. Sesame oil rich savory aromas. Maple sap in fresh cut lumber. Grasses and edible flowers. It's mostly sweet on the nose with a savory undertone to it.
An amazingly intense dried tobacco flavor on the palate. A really fine cigar, rich oaky humidor. Expressed orange peel. Green coffee beans. Roasted carrots and yams. A touch of ash but not in a smoky way but more like a charcoal minerality. Salted peaches. Burnt ends with herb butter. Pine needles.
Nice mildly dry oak. Moss and dry grass. It's like a tannic red wine finish. Dark fruits – plums, figs, and currents. Grape skins. That charcoal ashy flavor is present on the finish as well. It's a musky campfire. Lots of those herbs and grasses. Sage, rosemary, celery, and parsley. Bit of old leather with a pine wood resin flavor.
I absolutely love this. It's unassuming and full bodied. Well rounded fruit and woodsy flavors.
8/10
---
Tepeztate 47.89% – Maximiliano "Serafín" García Gerónimo
Lot: MGG12T September 2020
Banana skin or leaves on the nose. Wet 2×4 and plywood lumber. Lots of subtle vegetables – green chilies, raw potato, mild white onion, tomatillo. Some other fruit esters peek out but more align with sweet vegetables like tomato, green beans and cucumbers. With a bit more time in the glass some blue and blackberry comes out. It's pleasant on the nose if a bit unassuming at first.
Those lumber notes really stand out on the palate here. Roasted chilies with some slight acidity like grilled onions and lemons. Some dried grasses and hay with a limestone water minerality. Calcium rich water. A hearty toasted spice blend – All-spice, maybe a bit of fennel seed, pepper corn, red pepper flakes.
Mellow smoke with similar woodsy notes. On the dry side for a finish. Eases you in with some bitterness that's rather pleasant. Still that big grass and hay flavor as well. It's lacking that acidity or sugars from the palate. I sat the glass down to taste another sample and when returning 15 minutes later the berry and honey sweetness came out more on the finish.
Really well made and a great introductory bottle. I think just that additional rest time will really allow you to dive deeper and explore this bottle much more than just a 2 ounce sample can.
8/10
---
Cuish 47.89% – Maximiliano "Serafín" García Gerónimo
Lot: MGG13C September 2020
Incredibly vegetal nose to this one like an alfalfa shake. Lots of citrus oils both lemon and lime. Lime leaf, avocado oil richness. Dark literal earth flavors. Slate, gravel, calcium. Hint of tropical acidity. Chili spiced, glazed and grilled pineapple. A touch of cinnamon. Aloe vera, agave like medicinal aromas.
Bold earth and minerals. Really rich flavors on the palate. Mushrooms. Match sticks, sulfur. Some sweetness is here but not a ton. Pine needles, tobacco, clove cigarettes. Really nice spice with peppercorn, woody cinnamon bark and all-spice berries. Wood and resins. Leaves, hay and dried grass. Green onion and scallions. More of those simple herbs like parsley and spouts
Much more vegetal finish. Dried tobacco and black tea. Pine sap. Agave syrup. Mint, parsley, chives, and celery root. Walnuts, pecans. Boggy moss flavors. Green lumber with a virgin oak spice quality. A very dry lingering finish.
The more I tasted the more I just kind of felt meh about it. Just very one dimensional flavors and having rested an equal amount of time, I felt like this didn't improve like the other did. Just a bit disappointed in the flavor after a rather interesting nose.
6/10
---