Cooper's Choice from "Islay's Finest Distillery"
About a year and some change ago, a friend went over to Scotland for some much-needed reprieve. They were taking a few distillery tours and sending back photos of their fantastic trip. The highlands and Brora, seaside pics in Campbeltown, and finally over to some of my favorite distilleries on Islay.
They offered to bring something back for me and took a picture of a small little shop's shelves. Lots of independent bottles I can't find over here with rather attractive prices. Poking around the photos I saw this unsuspecting little bottle with a bright pinkish-purple label. "Islay" and "Moscatel Cask". I was sold.
---
Tasting Notes
Tasted neat in a Glencairn with 10+ minutes of rest. Dilution added throughout the tasting but was not necessary.
Lovely wine and peat bouquet. Golden raisins bring immediate and bright fruit to the nose. Semi-sweet cocoa powder, puff pastry, and vanilla buttercream frosting. It is absolutely not all sweet treats as a real meaty salinity builds in the glass. Sunday pot roast dinner with stewed carrots and sweet potatoes. A real vegetal sweetness like caramelized onions. Buttered pie crust and hard pretzels bring even more savory aromas. Dilution is definitely not needed but in tasting, I tried adding just a few drops. The fruit became a bit sweeter like fresh apricots and figs. Almost a cider-like effervescent to the glass.
Bold peaty smoke on the palate with much of the initial bourbon cask showing through. Vanilla and dry pear cider. It loses the salinity as I don't get the grilled meat flavor so much as from the nose. Hotter than I expected for the proof but the texture isn't thin. Resting my glass a bit longer reduces the heat as dilution ramps up those sweet Muscatel flavors. A mix of fruit and vegetable sweetness with candied yams, dates, fig cookies, and apple orchard flavors – both sweet honeycrisp apples and slightly floral blossoms. The flavor develops more after that first sip and the smoke builds on the finish.
Young, full-bodied peat smoke. Cooling firewood embers. Smoking fruit woods like cherry or applewood smoked brisket. Slightly tannic oak that's not present anywhere else. The finish saturates your mouth with the wine cask. Your nose is full of salty peat smoke. Dilution sweetened up the finish a bit, much like on the palate. Some additional dark cocoa and caster sugar to balance out some of the oak.
---
Overall
This bottle was all of £50 and I got a bit more than what I expected for my money. The young, supposedly Lagavulin peat, was the perfect amount of brine and salt to offset the overly sweet cask finish. I sampled alongside some other youthful Islay expressions and honestly believe the finish brought a unique experience compared to simply refill ex-bourbon.
The unknown amount of finish time is my only qualm but it's a small nitpick on a bottle that presents so much information on the label. The proof makes this a dangerously easy to drink and the price gives you just a bit more bang for your buck. A simple, sweet, and smoky dram.
---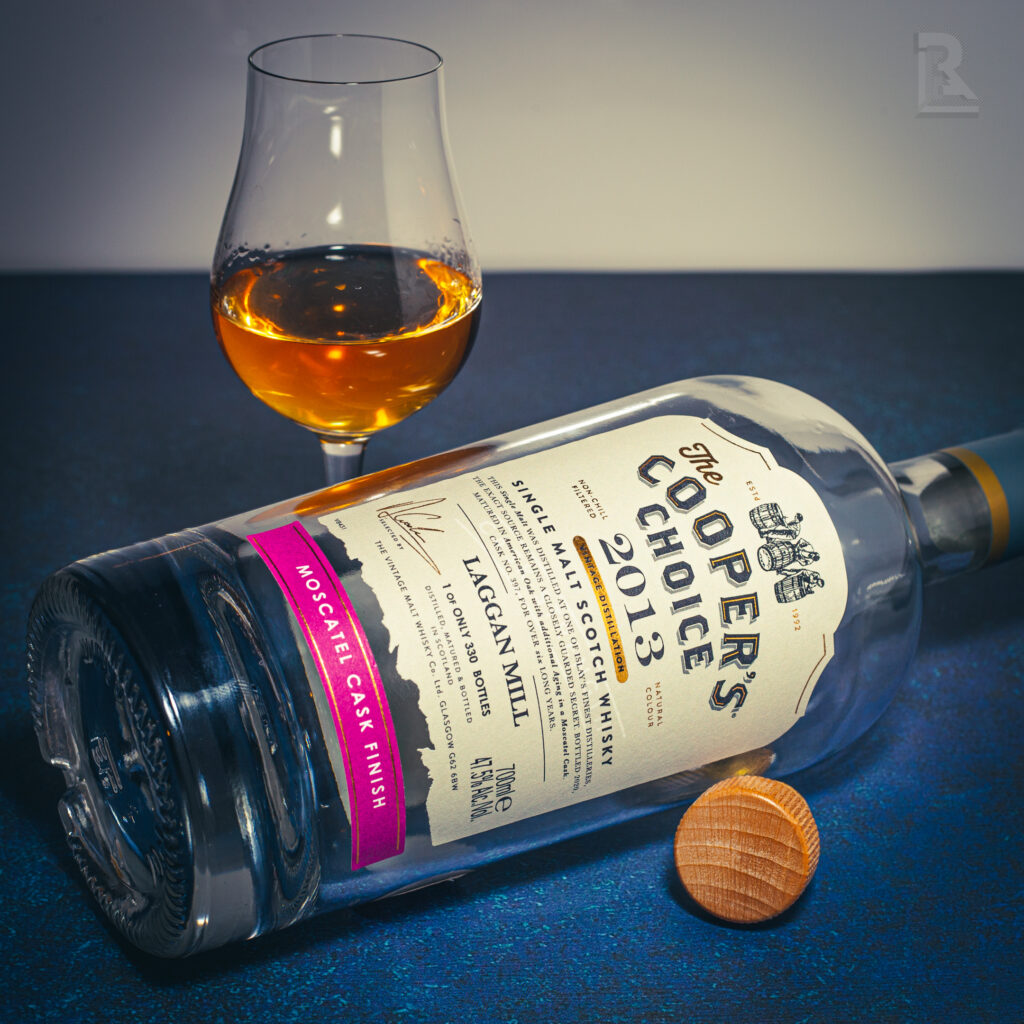 ---