Magruder's and Safeway DC Bourbon Selections
In the middle of 2021, the first John J Bowman selections for the year finally arrived. It had been some months since the previous releases, as the distillery trickled out selections to only a handful of locations. Establishments like Fish Market in Alexandria Virginia had a barrel and 1 West Dupont the year prior. They are very few and far between.
Since then, there's been a boost to the program. Multiple stores in DC and Maryland had releases in '21 and '22 as well as a new single-barrel bottle at the 90-proof mark. The change is welcome as other markets clearly want more Bowman Brother's whiskey.
These two single-barrel selections were both released within a week of one another. Roughly 10 years old, bottled at 100 proof. My notes encompass the entire year from first pour to last.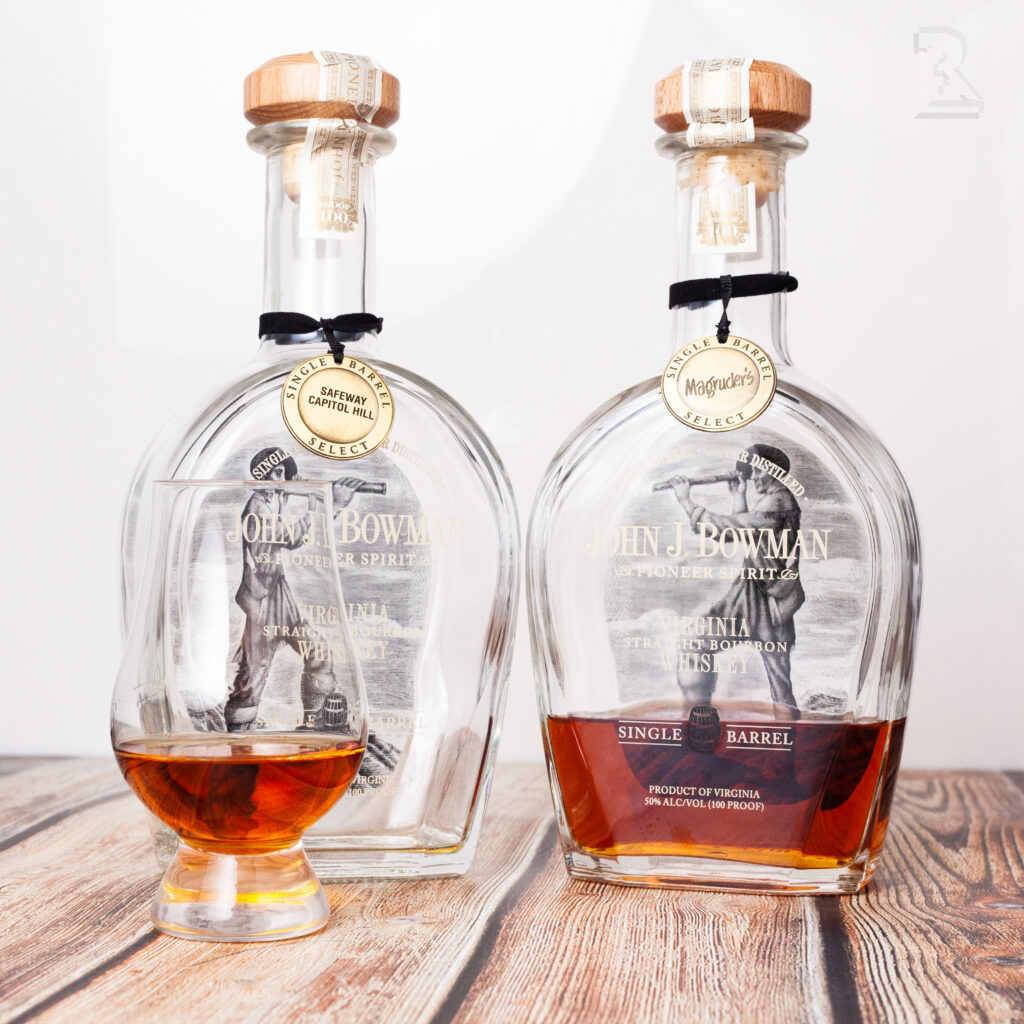 ---
John J. Bowman Magruder's DC Selection
Tasting Notes
The nose is full of farmland, dried grains in a silo. Hay and long grass. Leather and a rather unsweet nose. Water helps immensely in blooming some vanilla and fruits. Currants, raisins, tart raspberry, and green apple. Even though this is proofed down to 100, water still helps break up the alcohols and allows a much fuller aroma experience here.
The palate is relatively thin but still incredibly flavorful. Lumber, tree bark, both fresh cut and old aging oak. Lemon peel and expressed citrus oils. Dilution cuts through the harsher tannic oak and lets a floral fruity element bounce across the tongue. Cherry blossoms, orange blossom water, berries, and figs. Along with the floral elements are notes of honey and bee pollen. Potent molasses and ginger baking spice.
A rounded leather and oaky finish. Lots of barrel char character and the floral element coming through. Jasmine and chamomile tea. Water did very little to open up the whiskey. It's very oak dominant with a twinge of caramel and burnt sugars. Light black tea and the verdant, leafy grassiness sets it apart.
---
John J. Bowman Safeway Capitol Hill Selection
Tasting Notes
On the nose are classic bourbon notes of vanilla and brown sugar. Orange oils and stone fruit – plums and cherries. Water intensifies the fruit and molasses. There's also a fresh waffle cone aroma. Fresh vanilla bean, cereals, and sugar. Similar to granola or oatmeal sweetened with brown sugar. It's a sweet nose that seems like the complete opposite of the previous barrel.
Amish friendship bread on the palate. Yeasty, banana bread, and lots of baking spices. Cinnamon, allspice, and cloves. Bitter lemon and tart granny smith apple slices. Wheat bread, raw pie dough, a kind of sweet mince pie flavor. Water here heightens the cinnamon notes as well as the sweet flavors.
The finish really shines. Sea salt, dark chocolate, and tart cherries. Citrus pith with significant oak and tannins. Roasted espresso beans and rich walnuts. It really goes into new territory on the finish and balances out the overly sweet palate. The tannic oak is embraced with pleasant fruit and barrel char.
---
Overall
It might seem like I have a clear favorite of the two barrels. One brings a black tea note that I absolutely love to find in whiskey, while the other is a quintessential bourbon experience. Both are good and come close to great. Ultimately the texture is what does it in for me.
I'm unsure if it's entirely due to the proof or how it's distilled, but that viscosity is missing. The whiskey fades from your tongue quickly just as it was getting good. The bones are fantastic but the bottling proof here is what hinders it.
I'd give the advantage to the Safeway barrel selection. I understand it was a master distiller pick and it showcases the highlights of the Bowman character. In the end, John J Bowman is worth a buy. Even a shelfie bottle is worth owning. It's a slightly higher proof, more readily available Blanton's, but it plays in the same league.
---